We look forward to welcoming you to our cellar door.
Sit back and relax with a view of the vineyards, while enjoying some of Macarthur's finest wines at Razorback Ridge Wines Cellar Door.
Wine Tasting
A selection of wines is available to taste at $7 per person (4 wines) or by the full glass from $7 per wine.
Other Beverages
Premium Lager, $6.00. Non Alcoholic Beer, $4.00. Non Alcoholic Apple Cider, $4.50. Apple Juice, $3.50. Soft Drinks, $2.50.
Cheese Platters
Includes cheeses, fruit, olives & crackers. Platters for 1 to 3 people. $14.00 per person.
Savoury Plates
Dip, crackers, cabanossi, cheese & crisps. $16,00 per plate to share (Formerly chip & dip plate).
Gourmet Platters
Ham, salami, prosciutto, cheeses, fruit, olives, crackers & fresh baked Ciabatta bread. Platters for 2 to 4 people. $25.00 per person. (Pre order by Friday required).
Our cellar door has both indoor and outdoor seating options, so you can relax and enjoy the views of the vineyard and the surrounding countryside. Whether you are looking for a unique wine experience, a family outing, or a group function, Razorback Ridge Wines can cater to your needs and make your visit memorable.
Open Saturdays and Sundays 11 am - 4 pm (closed January) or weekdays by arrangement.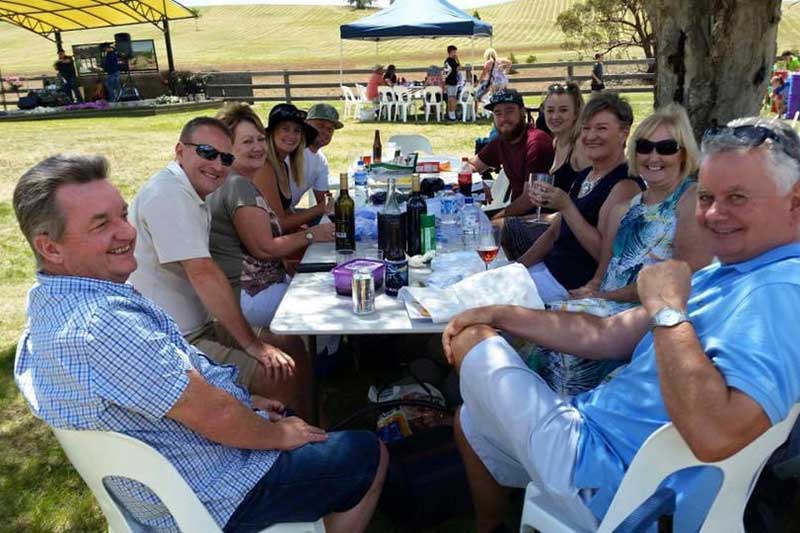 We are proud to be a fully self-reliant winery, where everything from growing grapes to selling wines is done on our own premises. We take care of our vines by hand pruning and picking them, and we only use our own grapes for making our wines.
Natasha's Sparkling Rose'
Disabled access is available, please contact us for details.